Provent - Protect - Correct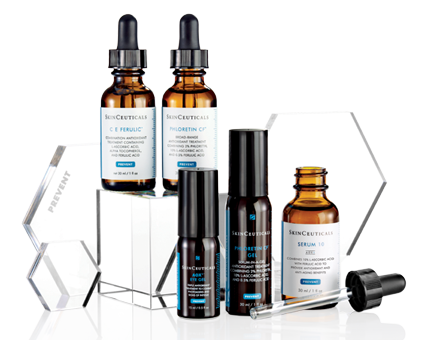 ---

---

Featured SkinCeuticals Products:

H.A. Intensifier is a multi-beneficial corrective serum proven to amplify skin's hyaluronic acid levels. This unique formulation contains a high concentration of pure hyaluronic acid, proxylane™, and botanical extracts of licorice root and purple rice to support skin's hyaluronic acid levels and deliver surface hydration, helping improve the visible appearance of firmness, smoothness, and facial plumpness.

Amplifies skin's hyaluronic acid levels by 30%
Reduces the look of crow's feet, nasolabial folds (parenthesis around the mouth or laugh lines), and marionette lines (lines from the corners of the mouth down to chin) for smoother, firmer skin
Delivers long lasting hydration to visibly improve skin's texture
Unique serum-gel texture format creates a smooth canvas on skin

---

---

Triple Lipid Restore 2:4:2 is an anti aging cream formulated with a maximized concentration of lipids: 2% pure ceramides, 4% natural cholesterol, and 2% fatty acids. This unique lipid correction cream contains the first 2:4:2 cholesterol-dominant ratio to help restore skin's external barrier and support natural self-repair, while potently nourishing aging skin for improvement in the visible appearance of skin smoothness, laxity, pores, and overall radiance.

Restores essential skin lipids: ceramides, natural cholesterol, and fatty acids
Improves the look of skin fullness, texture, and pore appearance
Improves the appearance of skin evenness and overall radiance
Unique lipid stabilization system in a lightweight and fast-absorbing texture
Shortens the adjustment period to retinoids up to 1 week while reducing dryness (see Science & Proof below)
Paraben-, and dye-free
Ideal for aging, normal, and dry skin types

---

---

A daytime vitamin C serum that delivers advanced environmental protection and improves the appearance of lines and wrinkles, loss of firmness, and brightens skin's complexion.

Provides advanced environmental protection by neutralizing damaging free radicals
Visible anti-aging benefits, such as the improvement of the appearance of lines and wrinkles, loss of firmness, and brightens skin's complexion
Neutralizes free radicals on the upper layer of the skin to help prevent the impact of ozone damage to skin

---

---

Faces of South Tampa carries many other award winning SkinCeuticals products to correct skin issues as well as protect. Clients are welcome to leisurely browse SkinCeuticals and other top-of-the-line, medical-grade skincare products in our spacious retail skincare centers.
---



Faces Mansion & Carriage House Operating & Retail Store Hours:
Monday - Friday 9am - 5pm (please call first if planning to visit our store outside of these hours)
Closed Certain Holidays (check website for Holiday Closings)
Available Appointment Times:
Mon: 9:00am-6:00pm Tues: 9:00am-7:00pm Wed: 9:00am-6:00pm
Thurs: 9:00am-6:00pm Fri: 9:00am-5:30pm Sat: 9:00am-4:00pm
Online Store Hours:
24 hours / 365 Days (except during maintenance windows)



South Tampa: 4807 Bayshore Blvd., Tampa Florida 33611 • (813) 443-5134 • Fax: (813) 200-3571

Copyright © 2015 Faces of South Tampa | All rights reserved | Reschedule / Cancellation / No-show

Participating Member • Allergan Partner Privileges® • Top 3 Practice


This practice is required, by law, to maintain the privacy and confidentiality of your protected health information and to provide our patients with notice of our legal duties and privacy practices. Gerard C. Mosiello, MD., Medical Director - Board Certified Plastic Surgeon