| | | |
| --- | --- | --- |
| Faces of South Tampa, an Allergan Top 3 Practice, was one of a select few practices in the nation to be able to offer JUVÉDERM® VOLLURE XC in advance of the official product launch! | | |
Due to the nature of the material, viewer discretion is advised.
Allergan®, the company behind JUVÉDERM® and BOTOX COSMETIC®, released its latest hyaluronic acid facial filler, JUVÉDERM VOLLURE® XC, which has been recently indicated by the FDA for the correction of "moderate to severe facial wrinkles and folds, such as nasolabial folds".

The main difference between JUVÉDERM® and JUVÉDERM VOLLURE® XC is that it contains VYCROSS® technology. VYCROSS® blends different molecular weights of hyaluronic acid which contributes to the gel's duration. The new formula limits swelling, which will result in a shorter period of recovery compared to that of JUVÉDERM®. JUVÉDERM VOLLURE® XC joins the family of JUVÉDERM VOLBELLA® XC and JUVÉDERM VOLUMA® XC, which both have the advanced VYCROSS® technology. Another comparison, is that JUVÉDERM VOLLURE® XC can last up to 18 months.

JUVÉDERM VOLLURE® XC filler, has been approved in Europe since 2013 (using the name JUVÉDERM VOLIFT® XC).
How do JUVÉDERM® VOLLURE injections work?
Developed using Allergan's proprietary Vycross technology (used in Voluma), JUVÉDERM® VOLBELLA, with lidocaine, is specifically created with an innovative combination of low and high molecular weight technology, which improves the cross-linking efficiency of HA chains. This more effective cross-linking allows for a lower concentration of HA to be used, which results in less swelling. The Vycross technology delivers an ultra-smooth gel, which results in a natural look and feel, as well as improved duration. Schedule a complimentary consultation with a Faces of South Tampa provider today.
This unique technology allows the product to absorb less water, resulting in considerably reduced swelling compared to more traditional fillers. Not only is there less downtime, the treatment itself is made as pain free as possible by the built-in lidocaine. Results are commonly seen to last up to twelve months. Results vary per patient.
What are the typical areas that are treated?
JUVÉDERM® VOLLURE is an FDA approved HA filler indicated for injection into the facial tissue for the correction of moderate to severe facial wrinkles and folds, such as nasolabial folds. It delivers a long-lasting result, up to 18 months.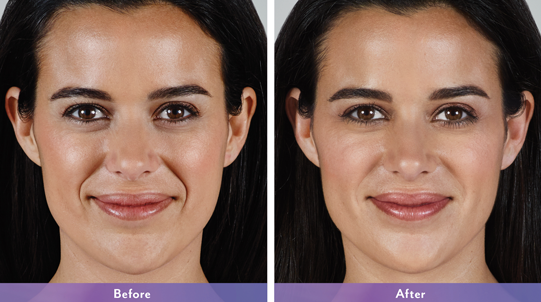 What to expect after a JUVÉDERM® VOLLURE treatment.
There is minimal swelling and/or bruising, so normal daily activities can be resumed immediately after the treatment. You will be provided with an ice pack to take home, which lessens the redness and swelling. Bruising/Swelling varies per patient.